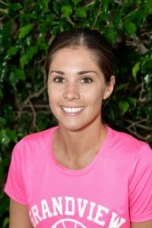 Lindsey Adams
Physical Education
Lindsey Adams is in her second year as the Physical Education Teacher & Assistant Athletic Director at Grandview Preparatory School. Prior to moving to Florida in 2015, she was born and raised in Michigan. Adams attended Coldwater High School and after graduating in 2011, went on to play volleyball at Siena Heights University. After playing there for two years, she went on to Western Michigan University where she graduated in 2015 with her Bachelor's Degree in Criminal Justice.
Once in Florida, Adams began teaching and coaching volleyball at Donna Klein Jewish Academy. There she took their Class 2A Varsity Volleyball team to the FHSAA State Final 4 Tournament two consecutive years.
In addition to teaching at Grandview, Adams is the head volleyball coach at Olympic Heights Community High School and runs South Florida Volleyball Club which she founded in 2015. It is a travel volleyball club that operates year-round and coaches athletes ranging from 8-18 years old.
Watch her "Meet the Teacher" video HERE
View course overview HERE