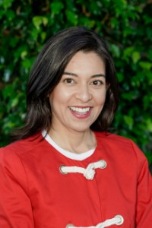 Rosita Darden
Innovation/MS ELA
Phone: 1322
Employed Since: 1/11/2013
7 Years Experience At School
Degrees
College

Marymount Manhattan College

(2000)

Post-graduate

City Uinv NY

(2003)
Mrs. Darden teaches reading and writing to students in Grades 3 - 5 at Grandview Preparatory School. In addition, she teaches the Junior Innovation class and drama classes. She joined the Grandview family in early 2013, after working in the public school system for about 11 years.
Mrs. Darden earned her Bachelor in Communication Arts with a theatre minor at Marymount Manhattan College in New York City. She was chosen as part of the New York City Teaching Fellows Program which awarded her an educational grant for further studies. While participating in the program, she earned her Masters in Teaching Early Childhood and Elementary Education from The City University of New York.
Mrs. Darden was an actress and model since her early teens. She thought she would continue down that path. However, she always enjoyed children and wanted a career where she could help make a difference. Fortunately, she came across substitute teaching which led to a full-time career in education. She believes that her experience in traveling and working as an actress and model has shaped her into a better teacher.
From Mrs. Darden:
My favorite GPS Moment would have to be when I watched the 2014-2015 5th grade class graduation. They were my first Grandview students and I felt very maternal towards them. It was wonderful to see how much they had grown in the three years that I taught them. I was extremely proud of all of them and even cried.... like a baby.

Before I became a teacher, I was an actress and model. One of my favorite acting gigs was getting to be an extra on my favorite show, Friends. While living in Los Angeles, I was chosen to be an extra for a flashback scene on Friends. It was the coolest experience because I am such a fan of the show. The make-up and hair department made me look like a total 80's girl. I had the worst knots in my hair after that gig, but it was so worth it.