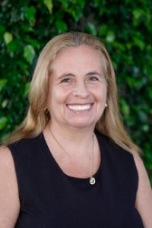 Vanina Roman
MS/US Spanish
Vanina Roman teaches Middle and Upper School Spanish and is also one of the Senior advisers for the 2020-21 school year. She has a Bachelors degree in Business Administration and an Export Import Certification from the Export Import Association of Peru (ADEX).
This is Roman's second year teaching at Grandview, but she fell in love with the school in 2009 when her oldest son started high school here. This is her last year as a parent as her other son graduated in May and her daughter is a senior. Roman has been teaching for 12 years and tutoring all levels of Spanish for more than 20 years.
She loves sports, especially Basketball and never misses a GPS game! Roman also loves tennis, music, the sun and ocean. She spends all of her time with her kids and dogs who are her world.
Favorite quote: "Close your eyes and let the music set you free." CARPE DIEM!
Watch her "Meet the Teacher" video HERE
Course Overviews: